I haven't done any cooking for months. Now that I am finally home and settling in, I have found my self constantly making dinners and enjoying every moment.
Now I would much rather be a gourmet, but working 40+ hours a week puts a damper on such dreams. Easy, nutritious, and quick are the best.
This week my co-worker gave me the best recipe that she had tried and recommended. I decided to try it this past weekend. It was a hit and I am excited to make it again!
Ingredients
1/2 C Olive Oil
1/2 C Ranch
3 Tbsp Worcestershire sauce
1 Tbsp minced fresh Rosemary
2 tsp salt
1 tsp lemon juice
1 tsp white vinegar
1/4 tsp ground black pepper
1 Tbsp white sugar
5 skinless, boneless chicken breast halves- cut in 1in cubes
Directions
1) In a medium bowl, stir together the olive oil, ranch dressing worcestershire sauce, rosemary, salt, lemon juice, white vinegar, pepper, and sugar. Let stand for 5 minutes. Place chicken in the bowl, and stir to coat with the marinade. Cover and refrigerate for 30 minutes.
2) Preheat the grill for medium-high heat. Thread the chicken onto skewers and discard marinade.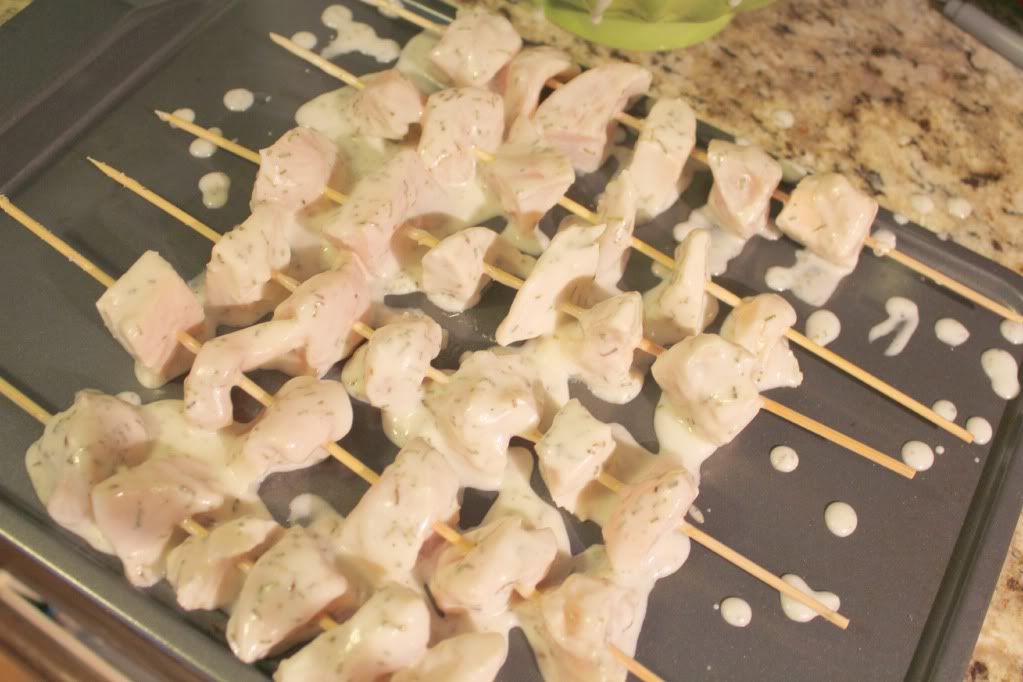 3) Lightly oil the grill grate. (We grilled on top of aluminum foil) Grill skewers for 8-12 minutes, or until the chicken is no longer pink in the center and the juices run clear.
Believe it or not, they taste even better than they look!
Pair it by throwing some unhusked corn on the grill. Summer dinner perfection.
partying here at taste and tell