In honor of Lindsay starting at Aveda this last month, I wanted to revisit my time there. I had a lot of fun, learned a lot, and made some amazing friends.
Went in an 18 year old, came out an Esthetician.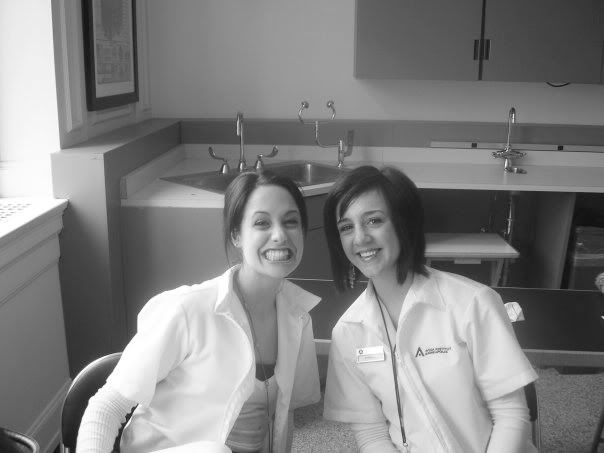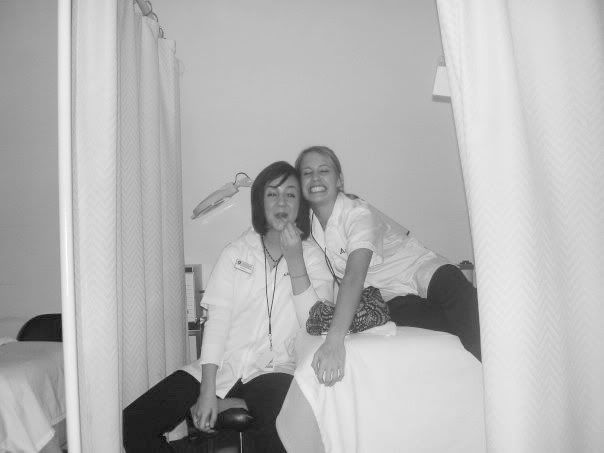 I'm looking at these very few pictures I have wondering,
Why can't I even take one picture with a normal face? Oh yea, this is the 18 year old sanguine.
And we did learn and work while we were there, I promise!
I didn't understand then, but I know now. Aveda is a cut above the rest. They taught us things other schools don't even address. It was a priveledge to be able to go there. Lindsay, soak up every minute.
After graduating Aveda in 2006, I began at this salon working front desk.
It's in the mall of america- come check it out!
A couple years later, I was able to move into an esthetician position. Facials and waxing were my passion! They still are, but now, I have a speciality.
I do eyelashes. Novalash Lash Extensions to be exact.
This beautiful bride, Ashlee, came to see me before her big day. These are my handiwork! Justin is extemely talented as well, check out his
website
! (Thanks again Justin and Ashlee for letting me use this photo!)
I love doing eyelash extensions. They are tedious and wonderful. They are an art- and I have fallen in love with it. I can't believe I have already been doing them for two years.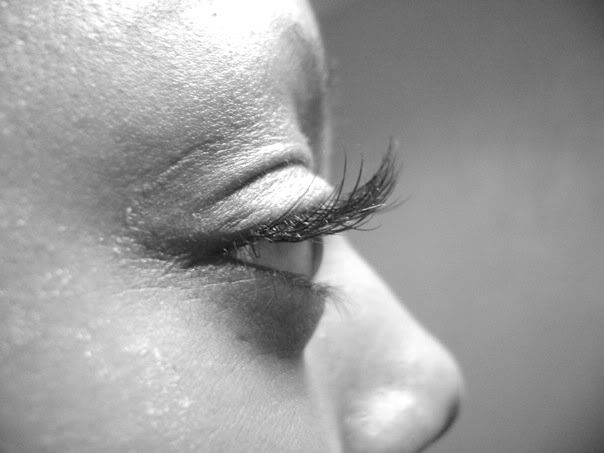 Thanks to my beautiful friend, Robyn for being my model.
What on earth does this have to do with Monday's? (If you're stopping by from Life Made Lovely Mondays) Well, I will tell you.
I work at my salon on Monday Evenings. And these lashes are all things lovely. I also want to share something special with you.
Are you in Minnesota or the Twin Cities Metro Area? If you book with me in the month of September, I will offer you 25% percent off a full set of lashes. (A $50 value)
Here are the rules:
- This is only valid towards a full set
- This is only valid for the month of September
- This offer is only valid Monday evenings with me, Sara Curran. There are some other wonderful, talented ladies that also do lash extensions at my salon, but their lashes will be regular priced.
How to book an appt:
- Call the salon. A friendly receptionist will take your call and arrange an appointment for you
Progressions Salon & Spa 952.851.9999
Mall of America (1st floor next to Nordstrom)
There is no need to mention the discount when you make your appointment. When you arrive, be sure to mention this post to me. Your discount will be applied at checkout.
* I have limited hours, so if there are no openings left in September, send me an
e-mail
and we will work something out! (I will be offering another discount in the spring.)
We also offer many other services at the salon. Check out our
website
.
Want more information on the Lash Extensions or to see a salon in your area that provides this service, check out the NovaLash
Website
.
Linking up with:
Happy Monday! Hoping to see you on another lovely Monday.
{S}