You know that gooey crunchy center in Dairy Queen cakes? Well, it's Kyle's favorite.
I have had this need to create some cake that incorporates his favorite things for each birthday. Sometimes its good, and sometimes it's a flop.I had some great compliments on this one, so I will take it as a success.
I had seen the idea of this cake a while back, just had never looked in to how it was made. I purchased some ingredients that would create what I needed and, Voila! Dairy Queen Cake knock off.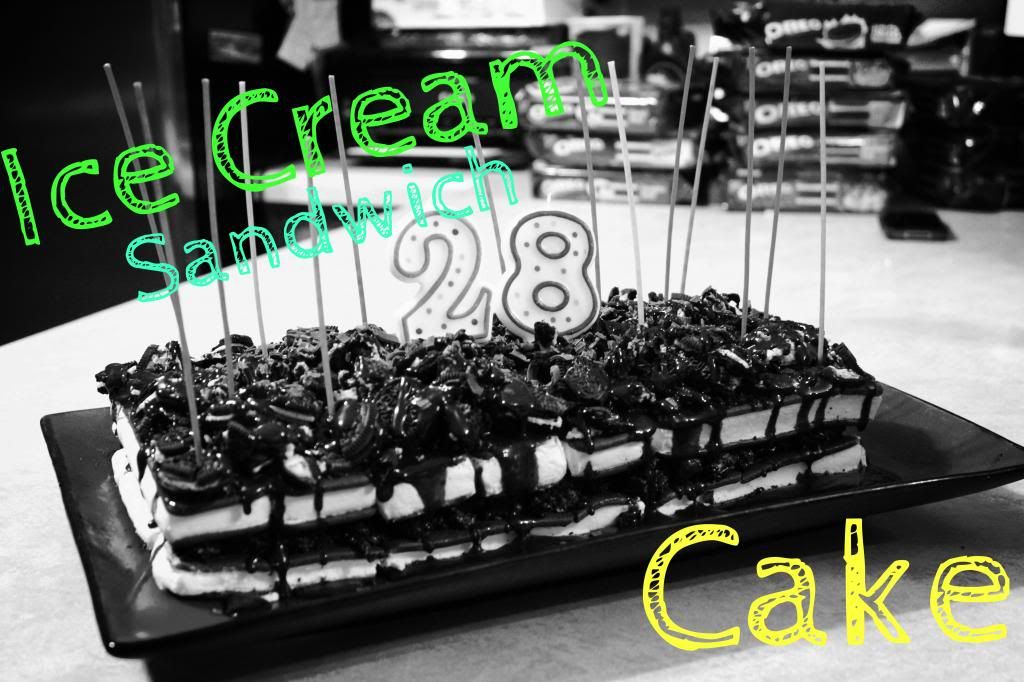 Here is how I made this rich cake dripping with hot fudge.
- Ice Cream Sanwiches (Depends on how big you want the cake)
- 2 packages oreos
- 1 jar hot fudge
- Hershey's Chocolate Syrup
1.) Make sure that the ice cream sandwiches are frozen solid. Also put your serving platter in the freezer at least one hour before you assemble the cake.
2.) Play lincoln logs. 3 sandwiches in each direction are equal length and width. Make your base layer the size you desire.
3.) In a bowl, mix crushed Oreos (make sure they aren't too fine. For my size cake I used 3/4 package of Oreos) 1/2 c hot fudge (not yet warmed) and 1/4 c Hershy's syrup. Spread evenly over base layer of sandwiches.
4.) Stack next layer of ice cream sandwiches- begin heating hot fudge.
5.) Spread a thin layer of Hershey's syrup over the top of the second layer of sandwiches. Crush large pieces of Oreo's over the top. Evenly distrubute them to cover the top. Drip the heated hot fudge over the top of the oreo pieces.
Be sure to freeze the cake at least an hour before serving.
Enjoy! This cake is a multi-person pleaser! Partying with the
Gingerbread Girl