In my post
Accomplished
, I mentioned the project that I am working on for the nursery. Here it is!
I have had my eye on making this rug for quite some time. It is a mock DIY Flokati Rug. I thought it would be the perfect addition to the nursery. I had to put a hold on starting it until I knew what the gender of the baby was. It will honestly take me forever, but so far I am so happy with the results.
See the tutorial at Xoelle
Here
.
She uses t-shirts that are dyed to her desired color. I thought I would like a little different of a look than hers. And because I was NOT up to the challenge of looking around for used t-shirts, I decided a cheap cotton fabric with a coupon was a great option for me. It also eliminated the step of dying the fabric. I also like that the fabric does not curl. The only thing I would say negative, is that the thinner you cut it the better, and be ready for shedding and fraying thread. I love the look of it, but it gets messy, just to keep in mind.
I cut a bazillion strips of fabric 1" x 4" and it wouldn't be a bad idea to cut them a little thinner like 3/4". They are thick going through the rug canvas.
It's a very fun project and I highly recommend it... as long as you are willing to put the time in to it and are not expecting to finish it quickly!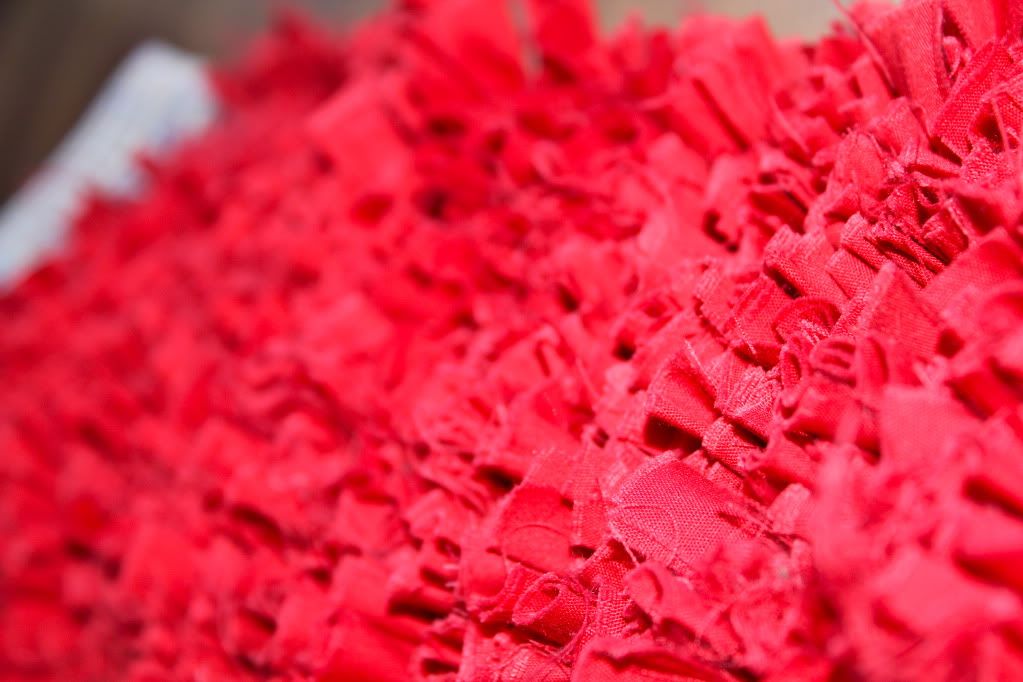 I am looking forward to working on this project over the next few months. I love handmade details in my home. It's as if I will be putting a piece of me in my son's room. The race is on to finish it in the next 3 or so months!
I will have a picture update of my progress until it is finished. I hope you don't mind seeing my progress. I will be needing the encouragement and the accountability to finish this one! I have a long way to go...