The projects are endless, and the cash flow is small! Out next project was in the bathroom. We were planning on saving up for it and then.. baby surprise! Our projects have been put on hold.
We had a problem with our shower leaking into our kitchen. Maybe you remember this:
From
this
post.
Showering in plastic was not ideal, but we had to do what we had to do so stop more damage from happening in our walls.
We finally decided it was time and had a lot of bids from different companies on a new, custom shower surround. This bathroom creates a lot of difficultly for remodeling within a very tight budget- especially with the curved ceiling and and window. We finally decided to go with Home Depot.
We were looking forward to a one day project from a big company that stands behind their work. The immediate result looked pretty good, but we had a lot of problems. The installer had to come back multiple times and never fixed problems we had. A couple weeks ago we discovered the shower was still leaking because of a bad calking job. He finally came back, fixed that, and fixed our damaged wall. It wasn't the greatest experience, but at least they continued to try to help us.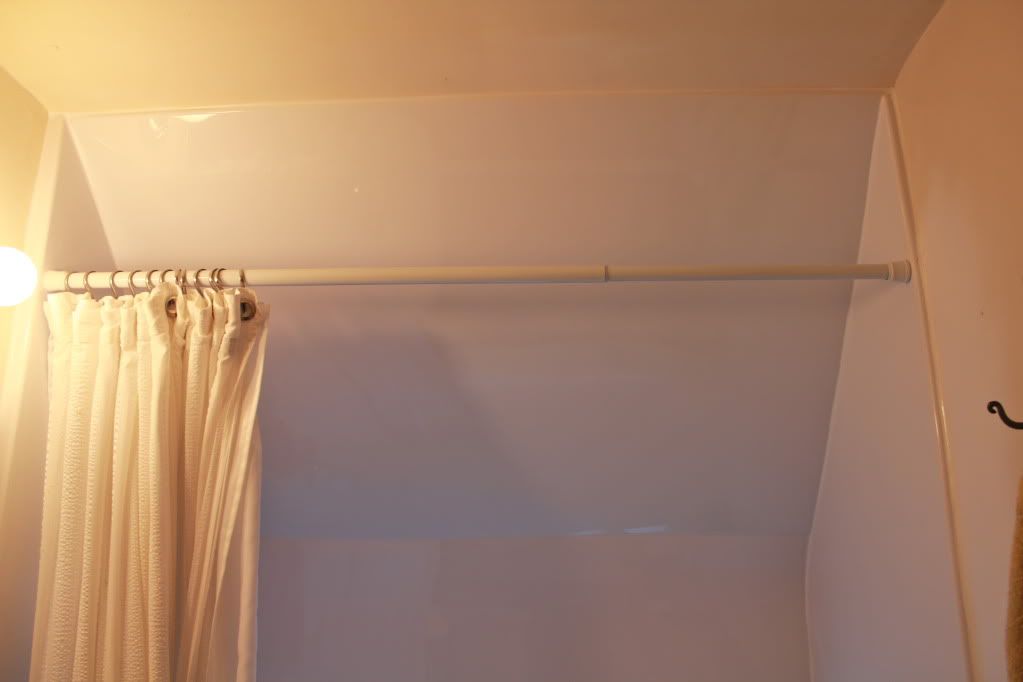 The result looks nice and updated, and still keeps the character of the bathroom. Bye-bye nasty old tile! It works! Always remembering to be thankful for a home, even through the irritating moments and to keep a positive attitude.
{S}